In September 2022, Northern Block was selected as part of 16 startups to join Accelerate@IATA's 2022 cohort, a travel tech startup accelerator jointly run by the International Air Transport Association (IATA) and Plug and Play and was chosen as 1 of 3 companies to pitch at the ATA World Financial Symposium (WFS) stage.
I had the pleasure of introducing our no-code SSI solutions on the stage and let me tell you, what a memorable experience!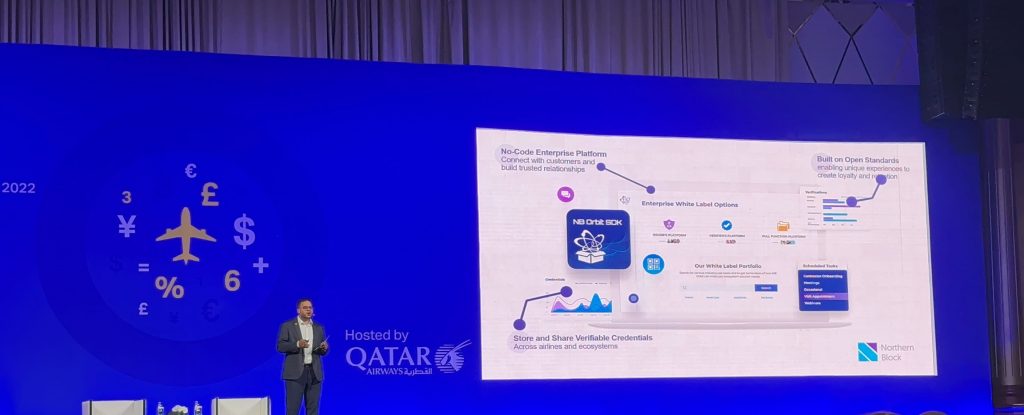 The IATA World Financial Symposium (WFS), hosted at the Sheraton Grand Doha Resort & Convention Hotel Doha from September 19 to 22, focused on airline resilience following the unprecedented COVID-19 crisis and its main topic; Reshaping Airline Resilience.
Throughout the crisis, airlines demonstrated their ability to adapt to volatile times. This edition drove into topics that are strategic to airlines financial sustainability, and for the travel industry as whole.
The World Financial Symposium (WFS) brought together financial leaders and experts to share ideas and address industry concerns such as the pandemic and economic sustainability measures. As travel resumes and shows indications of improvement, concerns remain that must be addressed for future and financial viability.
"Airlines are resilient. Now is the time to build on the hard work and difficult restructurings of the past two years to seize opportunities coming out of the crisis. Finance will play a vital role in supporting the ongoing recovery while creating a sustainable capital structure to support our ambitious environment agenda," said IATA Director General Willie Walsh.
Although customer centricity was covered in multiple sessions and conversations, the networking events provided greater space for debate concerning financial sustainability, financial risk management, settlement systems, and so on.
WFS also provided an excellent learning environment on the dynamics of the aviation sector. I had the pleasure of meeting attending IATA members, who were ecstatic about our company's engagement towards building a stronger global digital transformation.
Lastly, the aviation industry needs modernization. However, it is still a challenge to get buy-ins and an airline use case is a strong starting point as we start the process to achieve our common goals.
Khalid Maliki is the Chief Operations Officer at Northern Block. You can find him on LinkedIn and Twitter.
Northern Block Media Contact
Daniela Gutiérrez de P.
daniela@northernblock.io