NB Orbit Enterprise Platform used in Energy & Mines Digital Trust (EMDT) initiative to enhance Sustainability Reporting between multiple stakeholders.
As leaders in climate change legislation, the Government of British Columbia (B.C.) is helping to deploy cutting-edge technologies to complement them in their journey towards a low-carbon economy. In an effort to improve trust, accuracy, and efficiency when sharing sustainability data, Energy and Mines Digital Trust (EMDT) was established to incentivize the formation of a digital trust ecosystem.
Northern Block partnered with EMDT and provided our no-code NB Orbit Enterprise Platform to support two pilot projects aimed at better managing sustainable mining practices. 
Reporting environmental impact data can be a complicated and laborious process. Data is difficult to exchange internationally, and consumers cannot always access, or trust, reported data.
This project demonstrated an improved method for exchanging data, by allowing participants to share and receive digital credentials, including Verifiable GHG Emissions data related to specific mining sites and natural gas facilities.
From a technical standpoint, we accomplished some nice feats:
(1) Successfully demonstrated Interoperability between NB Orbit Enterprise and BC Traction in the exchange of Carbon Emissions Credentials.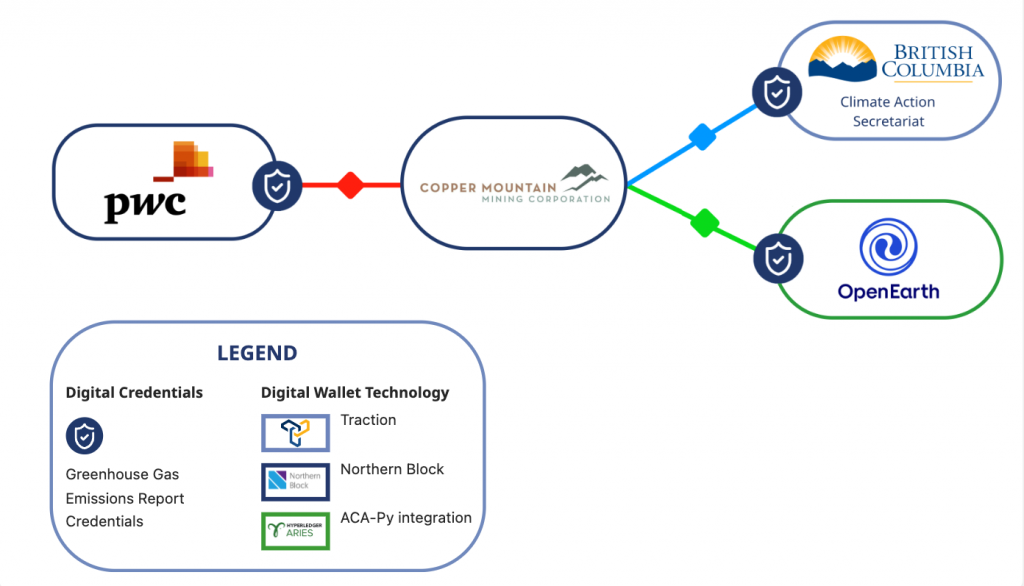 Image taken from EMDT Case Study (here)
(2) Successfully piloted the Presentation Proposal function (Aries RFC 0037: Present Proof Protocol 1.0), so mining companies (Holders) are capable of initiating holder-driven proof requests with Verifiers such as the Climate Action Secretariat, whom they owe sustainability reporting to.

Northern Block is committed to driving digital transformation by supporting the implementation of digital trust solutions which lead to value creation for entire ecosystems. Our mission is to build impactful solutions to achieve self-sovereignty, and we are proud to be actively contributing to these goals in collaboration with the Government of British Columbia, PricewaterhouseCoopers (PwC), Copper Mountain Mining Corporation and many others.
Looking to leverage digital credentials to support your sustainability mandate?
Northern Block Media contact
Daniela Gutiérrez de P.

Manager, Marketing and Communications