🎧   Listen to this Episode On Spotify   🎧
🎧   Listen to this Episode On Apple Podcasts   🎧
About Podcast Episode
This conversation revolves around two key elements that my esteemed guests consider pivotal for the adoption of self-sovereign identity: robust communication strategies and interoperable user experience elements.
In the decentralized identity space, numerous communities are filled with individuals collaborating to establish and enhance unified sets of standards to underpin the principles of self-sovereign identity. These communities are also actively engaged in developing technical specifications and open-sourcing implementations. Their collective efforts are instrumental in promoting the adoption of decentralized identity technologies. A fundamental pillar in this journey is interoperability. It's the key to preventing vendor lock-in and decoupling protocols from end applications. Just as we seamlessly exchange emails across various clients using standardized email protocols, we aspire to achieve a similar level of interoperability in the digital trust space. However, while we're making significant strides in achieving interoperability, there's one critical area that warrants more attention and collaboration: user experience (UX).
In this podcast conversation with Irene and Esther from Gataca, we focus around the challenges surrounding user experience and the need for greater standardization in this domain. Standardizing user experience elements is crucial for implementing solutions that are truly interoperable, preventing the emergence of proprietary obstacles.
For anyone interested in collaborating on designing interoperable user experience elements, Gataca is kicking off a new UX4SSI Working Group on September 12, 2023. Feel free to register using the link I provided.
And for those interested, here is the link to 'The Digital Privacy Paradox: Small Money, Small Costs, Small Talk' paper that Irene refers to in the conversation.
I trust that you'll enjoy this conversation as much as I did. Enjoy!
—
The full list of topics discussed between Irene, Esther and myself in this podcast include:
[00:25] Defining Adoption: How do we define adoption in the context of Self-Sovereign Identity, and what lens should we use when examining its various aspects and dimensions?
[02:21] Measuring Adoption: When measuring adoption, should we start within specific geographical contexts or industries? What key performance indicators (KPIs) and signals should we consider?
[12:07] Communication Challenges: Communication plays a vital role in SSI adoption. We explore why it's challenging to communicate and market SSI compared to other technologies, like generative AI products. What are the unique hurdles in conveying the value of SSI?
[18:24] Simplifying Terminology: The conversation continues with a focus on the use of technical jargon and terminology that can bewilder potential adopters. How can we transition from technical discussions to emphasizing business solutions?
[23:17] Targeting Adopters: Is it more effective to target entities that serve as both issuers and verifiers or to focus on specific roles within the SSI ecosystem? What are the trade-offs?
[27:56] Building Brand Recognition: Given the open nature of the SSI ecosystem, how can organizations build strong brand recognition, and what role do trust marks and certifications play?
[31:47] Navigating Political Terminology: How do you address concerns surrounding the term "digital identity" being weaponized in political discourse when communicating about your SSI products?
[37:44] Learning from European Adoption: What lessons can be learned from early adoption of digital identity programs in Europe, and how does it compare to the North American market?
[47:29] UX Challenges: What are some of the key user experience (UX) challenges in the SSI space, and how can they be addressed to enhance usability and security?
[50:59] Interoperability Impact: How does user experience impact interoperability in the SSI ecosystem, and vice versa? What collaborative efforts are needed?
[53:22] Balancing Usability and Security: Balancing usability with security is a common challenge. How can the SSI community find the right equilibrium and enhance user adoption?
About Guests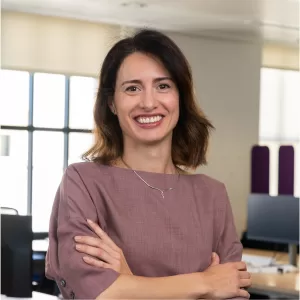 Irene Hernández is a seasoned entrepreneur, speaker, and educator with over 15 years of expertise guiding multinational corporations on IT strategies. Her focus has predominantly been on cybersecurity and blockchain technologies. In her current role as the founder and CEO of Gataca, she's defining a new Decentralized Identity architecture for the Internet, empowering individuals and businesses to take control of their data.
Where to find Irene?
➡️ LinkedIn: https://www.linkedin.com/in/irenehernandez/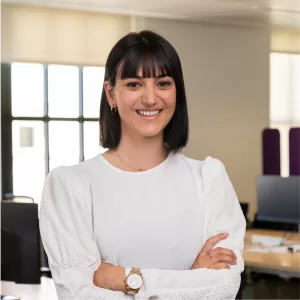 Esther Saurí is the Head of Marketing at Gataca. Gataca is a cybersecurity company leader in decentralized identity management technology in Europe. It has developed a decentralized identity solution that streamlines the issuance, verification, and management of identity credentials in a simple, compliant, and secure manner, positioning itself as the most mature full-stack platform and interoperable infrastructure provider.
Where to find Esther?
➡️ LinkedIn: https://www.linkedin.com/in/esther-sauri-carbonell/