🎧   Listen to this Episode On Spotify   🎧
🎧   Listen to this Episode On Apple Podcasts   🎧
About Podcast Episode
Did you know that in the United States, 38% of students enter a university with transfers from other universities? This highlights how crucial credit mobility is. However, there exists significant friction in credit mobility today, as I'm sure some readers have experienced in their own lives. Credit mobility is a challenge in itself within the United States, so we can imagine the challenges when considering students transferring from different countries.
What's notable about the Trusted Learner Network (TLN) is that they've brought together key stakeholders from higher education institutions. These institutions recognize the business case for issuing user-controlled, portable, interoperable digital credentials, such as diplomas, to facilitate credit mobility and reduce associated costs and friction. They also understand the importance of making learner data more accessible and dynamic, as opposed to the current static nature of such data.
To give you a feel for the discussion, here are a couple of quote from the episode that I thought to be interested and very related one to another.
The first,
So I feel like a diploma is extremely valuable, right? It represents the sort of culmination or termination of a set program of study towards a specific subject that is designed to empower the learner with like a both broad and deep understanding of what it is that they study it. It continues to be valuable and also the strongest trust signal that we have going for us in communicating that value. When we take a step back, though, we recognize that that diploma or degree is composed of a series of other credentials that might have individual that likely do have a very high individual value. So the average undergraduate student, when they graduate, they're going to have taken about 40 courses or about 120 credits, and each of those 40 courses represents the achievement of a set of knowledge, skills, capabilities, and we can dig down perhaps even further to that to embrace things like skills and competencies.
And second,
Does the diploma still have meaning? In the vision and the implementation that we're working on, it actually is way more meaningful because it says so much more in a way that can actually be, you know, understood both by machines and people than, you know, what just a printed out diploma framed on my wall used to be able to communicate.
By collaborating with a broader ecosystem, which includes learners and institutions beyond just higher education, such as employers, the Trusted Learner Network seeks to harness advancements in digital trust, enabling technologies, and ecosystem governance frameworks to transform the learner economy. The potential value unlocked by streamlining credit mobility and enhancing the significance of credentials like diplomas is immense. This leads us to consider other types of learner credentials that individuals might accumulate throughout their learning journey. Personally, I've gathered numerous 'credentials' post-University. How can we digitize these and present them to the rightful owner alongside more traditional credentials like diplomas?
Listen to this episode to learn more, and hopefully it will spark some great thoughts for you on the possible.
—
The full list of topics discussed between Kate, Andrew and myself in this podcast include:
Impact of freely available online information on higher education

– How has the trend of easily accessible online information, such as courses and certificates, influenced the strategies of universities and higher education institutions?

Value of diplomas and other credentials in the modern age

– With the rise of various credentials and certificates, is the traditional university diploma still as valuable? What other credentials might a learner want to accumulate?

Modernizing systems of records and the role of issuers

– How are systems of records being modernized to make credentials more mobile and trusted? Who are the potential issuers beyond traditional universities?

Value of personal references and incentives for issuers

– Is there value in making it easier for individuals, like professors, to provide references or credentials? How do incentives differ for various types of issuers?

Importance of governance in the context of digital credentials

– With the growing focus on governance over technology, how is the authenticity and trustworthiness of digital credentials being ensured?

User experience (UX) and wallet infrastructure for digital credentials

– How is the user experience being optimized for digital credential wallets? Where will learner credentials be stored, and how will they be accessed?

Role of verifiers in the TLN digital credential ecosystem

– How are verifiers being integrated into the network, and how does their role tie into the prioritization of use cases? How will the adoption of digital credentials be spurred among verifiers?
About Guests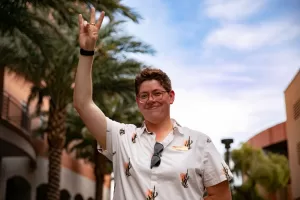 Kate Giovacchini is a higher education technology leader who passionately believes in the power of education to change lives and change the world. She has nearly a decade of experience working at Arizona State University where she has spent her time working in the areas of online education technology, business intelligence, ERP delivery, and large initiative execution. For the past five years, Kate has been engaged in the digital credential space, working on solutions for learners that utilize distributed ledger technologies. She leads the Trusted Learner Network and ASU Pocket, an initiative set designed to deliver both the technologies required to revolutionize digital credentials and the trusted relationships to make them valuable. 
Where to find Kate?
➡️ LinkedIn: https://www.linkedin.com/in/kategio/    |   ➡️ X/Twitter:https://twitter.com/KateGiovacchini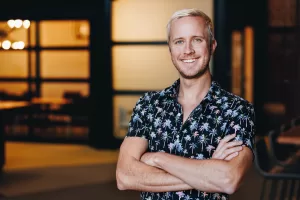 Andrew Johnson is a lead software engineer at Fluree, PBC where he leads architecture and implementation for client projects. He's worked on software development solutions for projects that include university student information systems, patent publication records, consumer data ownership, and federal public housing policy.
Where to find Andrew?
➡️ LinkedIn: https://www.linkedin.com/in/andrew-johnson-web-dev/
➡️ X/Twitter: https://twitter.com/Andere_Andrew