Read Most Frequently Asked Questions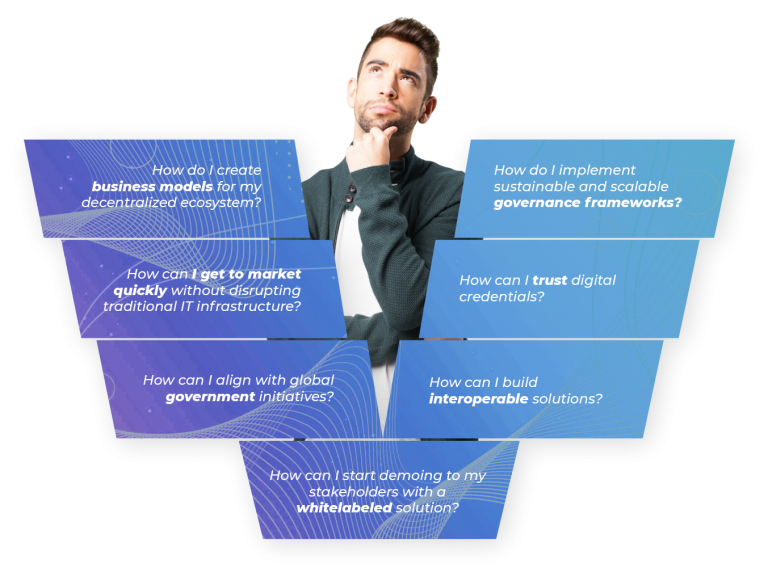 What makes SSI different than Federated ID?
Self-Sovereign Identity removes any intermediaries from your digital interactions and relationships. Everything interaction is peer to peer, and under your full consent and control. Learn more about SSI basics here.
What is 'Digital Trust'?
We tend to focus too much about the tech behind Self-Sovereign Identity. This leads us down rabbit holes to do with standards, protocols, blockchains, cryptography and more. But what's the purpose of SSI? It's about enabling Digital Trust.
Are SSI Wallets the same as Crypto Wallets?
The key difference is that your Verifiable Credentials sit on the edge, meaning locally encrypted within your device (e.g. your phone's private data store). With crypto, you store your private key locally, but the asset itself (crypto) sits on a blockchain. Learn more about wallets here.
What are the different business models of SSI?
Different types of entities will have different business models. A Government may simply want to issue credentials as a public good to create economic and social benefits. Whereas a private sector company may want to consume credentials to lower friction, lower costs or fraud. Just like a trust provider may want to get rewarded for issuing credentials. This podcast episode discusses this topic.
How can I get involved in SSI?
The SSI community is very vibrant and full of bright talent from all expertises. Organizations such as the Trust over IP Foundation, the Decentralized ID Foundation and the DIACC are all great places to start.
Does Northern Block work with Governments?
Yes. We are actively working with various Governments to operationalize their trust networks. If you work int he Public Sector and are curious in how we can help your Government take a leap, schedule a call with us!
How do you work with start-ups?
We've worked with start-ups since 2017 to help commercialize decentralized technology architecture inline with good business models. To help start-ups take their SSI solutions to market cheaper and faster, we offer an Accelerated Development Program.
Does your solution offer KYC and KYB capabilities?
Yes, we believe that any trust ecosystem is only as valuable as the authenticity of the entities and the credentials. Through partner integrations, we enable you to have people and businesses verified from the source with high levels of assurance.
What's the NB Orbit tech stack?
NB Orbit currently supports Hyperledger Indy networks and uses Hyperledger Aries for all DID communication and credential exchange. We're of course aligned to the DID and VC standards from the W3C.
Are your solutions interoperable?
NB Orbit is interoperable from a technology standpoint (AiP 1.0). Interoperability encompasses governance frameworks as well, which we'd suggest you reach out to us to discuss any needs you may have here.
// We Are More Than Just Technologists
Let's commercialize
your SSI Solution!