This presentation was made at the Cybersecurity & Identity Summit (CIS2022) held from April 26 to 27, 2022.  Mathieu Glaude presented 'Are we really committed to protecting the rights of people and democratic societies?'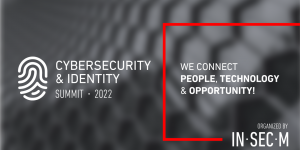 CIS2022 is an essential event for the technology industry, providing leading-edge insight on cyber risk prevention and Digital Identity management. Join us for Learning, Networking, and B2B Opportunities.  The event is organized by In-Sec-M, a Canadian non-profit organization that brings together companies, learning and research institutions, and government actors to take concerted action to increase the cohesion and competitiveness of the Canadian cybersecurity industry, nationally and internationally. Learn more about In-Sec-M.
—
About the presentation
Is protecting both the rights of individuals and societies really a priority? Do we actually want to deliver on this promise?
To achieve it, both individuals and societies must be capable of expressing their choice without being manipulated. And if we don't want to be manipulated, then our environments must be secure to allow us to express ourselves freely.
The way the digital world is architected today inherently places all of my data out of my control. When I live in the digital world, I'm dependent on someone else holding and securing data about myself. I really don't have an alternative. This means that cybersecurity is about securing my world which is not under my control. The concept of hacking is exponentially grave because information about myself exists outside of my control.
Have we been able to deliver on the promise of cybersecurity? Will we ever be able to protect the rights of individuals and societies under the existing model? I'd say it's not possible.
Interested in more of this type of content? Check out https://northernblock.io/podcasts/ for a library of interesting conversations with thought leaders in the self-sovereign identity space.