Northern Block Solutions leveraged to support the Digital ID and Authentication Council of Canada (DIACC)'s work on Foundational Digital Identity 
Throughout 2021-2022, Northern Block took part in the Digital ID and Authentication Council of Canada (DIACC)'s Special Interest Group (SIG) to explore how the integration of Foundational Identity credentials into digital identity ecosystems could improve identity resolution between silos, introduce new efficiencies in service delivery and be used to reduce fraud.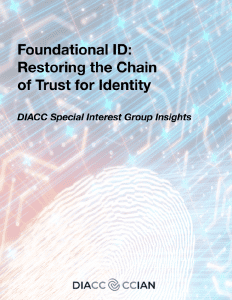 The Foundational ID: Restoring the Chain of Trust for Identity report was produced and recently published to outline conclusions and recommendations including a list of 12 proposed initiatives that may be considered as a method to address and resolve some of these challenging issues facing our community today.
More specifically, Northern Block worked alongside Axiell to demonstrate the issuance of a Foundational ID Verifiable Credential by the province of Manitoba Vital Statistics leveraging NB Orbit Enterprise.
The following demo video shows how interoperable standards-based technologies such as NB Orbit can leverage existing online ordering processes to request an electronic birth certificate as a Verifiable Credential to an Self Sovereign Identity (SSI) wallet belonging to a citizen born in Manitoba. 
Achieving Digital Trust is possible today. We're proud to be at the forefront of this exciting space. We are enabling user controlled privacy-preserving data exchanges today, and wish to bring this to more Canadian citizens in a not so distant future.